Shopping Cart
Your Cart is Empty
There was an error with PayPal
Click here to try again
Thank you for your business!
You should be receiving an order confirmation from Paypal shortly.
Exit Shopping Cart
| | |
| --- | --- |
| Posted on December 9, 2016 at 4:31 PM | |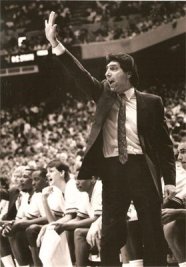 I have always wanted to write this story but be as it may, it always became a bit to emotional for me.  You see, sometimes we can be too close to something.  So close that it feels wonderful and hurts all at the same time.  Oh, I tried and then all the memories rose up, my mind reeling, I would move on to something else, always intending to return.  It's been 33 years.  Now that another season of NCAA basketball has started, I will try again to express my feelings.  I will never forget the following article that was written in the Albuquerque Journal on the morning of April 3, 1983.  "Trees will tap dance, elephants will drive at Indy and Orson Welles will skip lunch before North Carolina State finds a way to beat Houston in the NCAA College Championship Game, Monday night."  Sometimes we wish that time would stand still.  Life unlike a snapshot is a gathering of fleeting moments in time.  That was such a happy time for me, my brother Cliff, my family and millions of N.C. State fans. 
I was born and raised in Raleigh, N.C. and my Mother, Edith Purvis, worked at N.C. State in the bookstore and athletic department for over 25 years.  She knew Jim Valvano well and made sure we did too.  My first love was college basketball not baseball, and my favorite athlete was N.C. State point guard, Eddie Biedenbach.  I saw Eddie years later at the 2011 Final Four tournament with my pal, Coach Ronnie Arrow.  I shook his hand and told Eddie he was my favorite player growing up and he turned to several others coaches and said, "See, I told you I could play."  He was also the first to give me an autograph. 
I can't count how many games my brother and I attended at William Neal Reynolds Coliseum, the home court of the N.C. State Wolfpack.  The ACC was a great basketball conference and N.C. State had some history.  In 1973, we were privileged to see Norm Sloan and the Wolfpack beat Tom McMillian and John Lucas of the Maryland Terrapins, in a nationally televised game on Super Bowl Sunday.  The Wolfpack became the first team in the ACC to go undefeated in conference play, two years in a row.  With great players like David Thompson, Monte Towe, Tom Burleson, "Mo" Rivers, Phil Spence and Tim Stoddard, N.C. State won the 1974 NCAA National Championship.  The Wolfpack took down Bill Walton and the UCLA Bruins 80-77 in the semi-finals, and then ran by Marquette 76-64 for the championship.
When N.C. State coach Jim Valvano was asked how he planned to slow down the Houston Cougars at the 1983 Final Four, he responded, "We're going to start guarding them when they get off their bus."   Jim Valvano was a one-man parade.   He was an over-doer, an overachiever and an over-the-top kind of guy, but he was at his best as a basketball coach.   Whatever he attempted, he was all in and in most cases successful.  It's hard to describe Jimmy V.  He had that flash; that ability to light up a place.  His hands were small; it was like shaking hands with a nine-year old.  Jim spoke fast like an AK-47 and his voice sounded like a distant artillery barrage.  When excited, he kept coming at you like sheets of rain in a windstorm.  He looked like a guy with a lance going after a machine-gun nest.  Jim once said, "Sometimes the only difference between being a college basketball coach and General George Armstrong Custer is that the coach has to watch the game film the next day."  Talking with Valvano gave you ammunition to go out and do whatever you set your mind on doing.  Everybody who ever met Jim had a story about him.  This one is mine.
He was the kind of guy you wouldn't mind getting stuck with in a submarine.  Jim was always an education to talk to.  The gym just felt better with him in it.  It's true that Valvano never shied away from a camera.  That was just not part of his DNA.  I'm pretty sure Jack the Ripper could have played for Jim Valvano.  "Don't let anyone steal your dreams," he once said.  I remember him with his head back, knee-slapping with laughter.  Until his bout with cancer, the only thing Jim had ever hurt was his stomach from laughing.  Jim always talked about love.  Love for the game, for his players, and his family. "Love means you can depend on me," said Valvano.  He just might have been what basketball is all about. 
With a record of 25-10 and a coach who refused to give up, the Wolfpack prepared to play against the 31-2, Houston Cougars.  It was April 4, 1983, in "The Pit" at the University of New Mexico.  Valvano had threatened to hold the ball, but instead went right at Houston.  Valvano's secret was to not let them dunk the ball, because that's when they really got going.  This strategy worked at first.  At halftime, N. C. State was up 33-25 with 50 million viewers tuned in.  The world of college basketball was upside down.  Surely Houston would respond.  Derek Whittenburg, Sidney Lowe, Thurl Bailey, Ernie Myers, Terry Gannon, Cozell McQueen, and Lorenzo Charles had played most of the minutes for Valvano during the season.  It would be the same in the national championship game.  With the score 52-52 with 1:42 minutes left to play, Valvano called a timeout and instructed his team to foul freshman Alvin Franklin of the Cougars.   Who fouls in a tie game?  Whittenburg committed the foul and Franklin went to the line with a one-and-one opportunity and 44 seconds left in the game.  Franklin missed and N. C. State rebounded the basketball and called another timeout.  Houston had played man to man the entire night but switched to zone and started trapping the ball handler.  The Wolfpack was not prepared.  With 4 seconds left and Derek Whittenburg, wearing #25 and 30 feet away from the basket, put up a desperation shot.  There's an old saying in basketball, "A shot is never too far away if it goes in."  Whether Whittenburg actually shot the ball or attempted a pass to Lorenzo Charles standing underneath the basket, it will be debated until the end of time.   Everyone held their breath.  The only guy who moved in the building was Lorenzo Charles who grabbed the ball out of midair and dunked it as time ran out.   Madness, upset city, it's a miracle, Cinderella was for real, team of destiny, it may never happen again, every sports page and magazine in the nation led with the impossible:  N.C. State 54-Houston 52.  Remarkably, neither Lowe, Gannon, nor Whittenburg had turned the ball over the entire game.
If you have not watched the ESPN 30-For-30 Special about this amazing run by Jim Valvano and his Wolfpack of N.C. State, please do.  Valvano taught his kids to dream.  He told them at the beginning of the season that they were going to win the national championship and had them practice cutting down the nets once a week during practice.  Valvano's March 4, 1993 ESPY speech, "Don't Give Up.  Don't Ever Give Up," will live forever.  God truly gave him words that night to give to us.  Since 1993, nearly 200 million dollars has been raised to help fight cancer through the Jimmy V. Foundation.
It has been said that death may end a life, but it does not end a relationship.  How true!  A lot of laughter left the game when Jim Valvano died.  Cancer had been getting to the foul line on him for years trying to score.  Cancer finally dunked on Jimmy V. with no time remaining, on April, 28, 1993.  It had been a little over ten years after Jim had cut down the nets in Albuquerque, New Mexico.  I'm positive he died laughing or eating or both.  My dad, Gordon Purvis died of cancer one year after Jimmy in July of 1984.  My mother and brother have also left me behind.  Valvano's real message had always been the same as my parents, about love.  Love each other.  I miss them all, terribly.
                                                     Andy Purvis
                                            www.purvisbooks.com
Categories: None
/