Shopping Cart
Your Cart is Empty
There was an error with PayPal
Click here to try again
Thank you for your business!
You should be receiving an order confirmation from Paypal shortly.
Exit Shopping Cart
| | |
| --- | --- |
| Posted on July 19, 2017 at 7:57 PM | |
Nineteen Sixty-Three was a very memorable year in the world of sports.  Wilt Chamberlain dropped 67 points on the Lakers and then 70 the following week on Syracuse.  "Sonny" Liston knocked out Floyd Patterson in the 1 round to win the heavyweight title, and Jack Nicklaus won "The Masters."  A young Pete Rose debuted for the Cincinnati Reds, and both Mickey Mantle and Willie Mays signed the first $100,000 a year contracts in Major League baseball history.  The great Jim Brown won the Bert Bell Award by setting the NFL single-season rushing record with 1,863 yards; the Dallas Texans became the Kansas City Chiefs; and Jim Thorpe, "Red" Grange, George Halas were elected to the Pro Football Hall of Fame.  Bob Cousy and Stan Musial retired, and the College All-Stars beat the Green Bay Packers 20-17.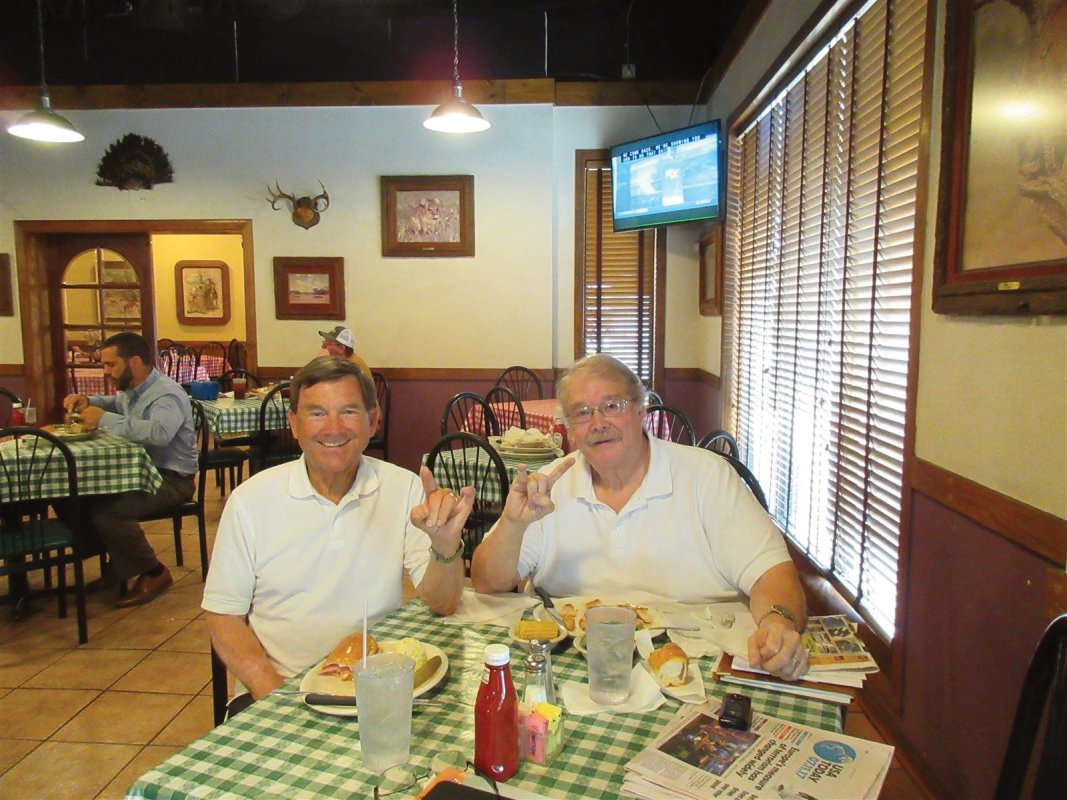 But for the past two seasons, a college football storm had been brewing down in Austin, Texas; and it all started with Head Coach Darrell Royal.  The Longhorns' football team had started the previous two seasons (1961 and 1962) ranked #1 in the nation, only to be turned away at the end.  The 1961 team was upset by TCU, and the 1962 team settled for a tie against Rice.  The stars seemed to be aligned in 1963, even though the Associated Press ranked the Longhorns #5 at the beginning of the year.  Today my friend, Hix Green, gave me a firsthand look at how that 1963 National Championship season unfolded.
At 75 years of age, his mind is sharp and his voice educated.  Just being around Hix makes me feel ten years old.  Smiling constantly, he owns a "We're going to Disney World" kind of face.  Mostly retired now, he looks like he could still play.  He seems content until you mention Texas football.  His eyes open wide, and the memories come flooding back.  As of this writing, the Texas Longhorns have won four National Championships in football:  1963, 1969, 1970 and 2005.  "Yeah, but we were the first," exclaimed Hix. 
Hix Green, III, was born on July 20, 1942, grew up in San Antonio, Texas, and attended Jefferson High School.  Although rather small, Hix made up for his size with quickness, energy, speed and talent.  The only thing that could have stopped this guy was a bad case of the flu.  Not only was he an outstanding football player, but he also ran on the track team and qualified in the 100-yard dash during the Texas Relays.  Green was not only recruited by Texas, Rice, Texas A&M, Georgia Tech, Navy, SMU, Coast Guard, Air Force Academy and Texas Tech, but he also received an appointment at Army.  When I asked him "Why Texas?" he smiled and said, "When they flew me out there, the plebes convinced me that going to school at West Point was not all that it was cracked up to be."  Hix accepted an athletic scholarship to become a Longhorn.  "I never regretted my decision," said Hix.
In 1960, Hix reported for his freshman year with about 70 other players.  "I looked around and the place was full of blue-chip players.  Freshmen didn't play on the varsity squad back then.  Coach Royal red-shirted me for the 1961 season," said Hix.  In 1962, Hix got his first taste of big-time college football and the Longhorns finished 9-1-1, but lost on January 1, 1963, in the Cotton Bowl to LSU, 13-0. 
The Longhorns would not lose another football game until October 10, 1964.  That's right!  The Longhorns went untied and undefeated for the 1963 season.  Hix started the 1963 season off right.  On October 12, 1963, with 2:42 left in the 3 quarter, Green scored a touchdown from three yards out, in a 34-7 romp over Oklahoma State.  A blowout win over Oklahoma 28-7, in the fourth week of the season, pushed the Longhorns to the #1 ranking.  On November 9, with the Longhorns leading 7-0 late against Baylor, Hix made what would have been a game-saving interception.  Baylor's All-American quarterback Don Trull threw to All-American wide receiver Lawrence Elkins, but Green intercepted Trull's pass and ran it back 21 yards.  On the next play, Texas fullback Tom Stockton fumbled the ball back to Baylor.  It took a Duke Carlisle interception in the end zone to save the day.
On November 22, 1963, President John F. Kennedy was shot and killed in Dallas, Texas.  Kennedy had planned a trip to Austin to visit Royal, but it was not to be.  At 1:00 PM Central Standard Time, the nation stood still; JFK had passed away.  "Most of us were on our way to class," said Hix.  "Nobody could believe what was happening.  When we got to class, the teacher called it off.  I do remember we practiced that day, but it wasn't very spirited."   Texas Governor, John Connally, had also been shot but survived.  Six days later, Texas played Texas A&M at Kyle Field.  Hix played an important part in the Longhorns' win over the Aggies.  On an incredibly muddy field, the score stood 13-3 at halftime, in favor of the Aggies.  In the fourth quarter, Green recovered a fumble on the Aggies' side of the field and Tommy Ford later scored for the Longhorns, leaving the score 13-9 in favor of the Aggies.  Later in the game, with Texas facing third down and 17 from their own 20-yard line, Green was surprised when a throwback pass was called in the huddle.  Hix made the catch of his life for 20 yards, to keep the winning drive alive.  Texas later scored and won 15-13, to keep their National Championship hopes alive.  Up next would be Heisman Trophy winner, Roger Staubach, and #2 Navy, in the Cotton Bowl. 
The first-ever Cotton Bowl to host #1 versus #2 was played on January 1, 1964, in Dallas, Texas. Texas played hard and well and stunned Navy 28-6.  The Longhorns were crowned #1 in the nation for the first time in the school's history.    
The 1964 season started with four straight wins, until Arkansas came to town.  The Razorbacks hung on for a 14-13 win over Texas, diminishing the Longhorns' chances for another National Championship.  On November 26, 1964, Hix recovered an Aggie fumble to help turn the tide for the Horns.   With 2:24 left in the game, Hix scored a touchdown from two yards out, making the score 19-7 in favor of Texas over arch rival Texas A&M.  Texas beat the Aggies that day, 26-7.  "After the game was over, I ran off the field with the game ball," said Hix. "I still have it at home, sitting on my desk."  Texas would meet #1 ranked Alabama next.
"On January 1, 1965, we played against Joe Namath and the Alabama Crimson Tide, in the first Orange Bowl to ever be played at night in primetime," said Hix.  "We stayed at a hotel on Miami Beach, and worked out at the University of Miami.  There were even a few NFL scouts hanging around."  Hix received the kickoff for the Longhorns as the Orange Bowl got underway.  Late in the game, the Texas defense made one of the most famous stops at the goal line, to preserve a 21-17 win for Texas.  With time running out, Namath tried a quarterback sneak and still claims he reached the end zone, but Tommy Nobis and Tom Currie turned him away.  Texas would finish the 1964 season 10-1 and ranked #5 in the nation.    
At the end of our interview I mentioned to Hix, "So, you have never lost a football game to Oklahoma, Texas A&M, or Alabama, three pretty darn good programs."  "That's right," smiled Hix. "And we even beat Jerry Jones and Jimmy Johnson when they both played at Arkansas." 
Hix Green was a member of the Texas Longhorn football team from 1960-1964.  He stands 5 feet 8 inches tall, weighs 170 pounds and played tailback and defensive back.  "Everybody played both ways back then," said Hix.  Texas ran from a Wing-T formation, and used what was called a flip-flop offensive set.  They had seven running plays to the right and then flipped the formation to run the same seven plays to the left.  Hix spent a lot of time blocking for halfback, Tommy Ford, and quarterback, Duke Carlisle. Hix Green suited up for three Cotton Bowls and one Orange Bowl.  During his career, Hix rushed 110 times, gained 318 yards and scored two touchdowns.  Hix also recorded eight receptions for 80 yards.  "We only had three pass plays," laughed Hix.  He also took his turn at running back kickoffs, returning punts and recovered several fumbles. 
For some of us, football is life.  It's where we find our happiness.  "I don't think my stats are important," said Hix.  "My final stats were less than I achieved in many single high school games for San Antonio Jefferson, but when called on…I delivered." There is no doubt that Hix made several key plays that helped the Longhorns achieve greatness.  Here's to my friend, Hix Green.  There's nothing like being part of the first!!
                                                                      Andy Purvis
Categories: None
/