Shopping Cart
Your Cart is Empty
There was an error with PayPal
Click here to try again
Thank you for your business!
You should be receiving an order confirmation from Paypal shortly.
Exit Shopping Cart
| | |
| --- | --- |
| Posted on July 19, 2017 at 7:50 PM | |
Look into those eyes.  Notice that smile.  Now you know why so many stop by to see him.  They come by, young and old, to say "hello," pay their respects, to place their hand on his shoulder or shake his hand.  Most of them want to take a picture with him.  Because of his WWII military service, he has been written about as much as any Corpus Christi resident.  There are not many Pearl Harbor survivors left, and his life story is indeed incredible.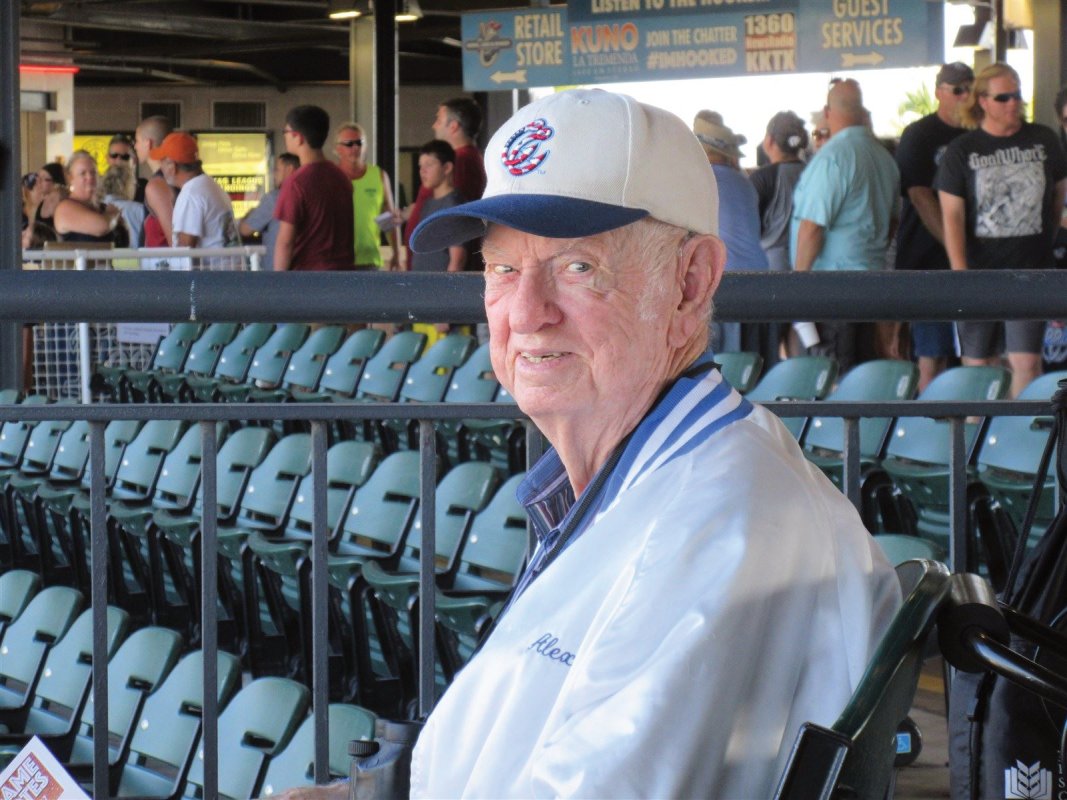 But this is a tribute to a baseball fan.  I imagine that Marvin Alexander's life is divided by the four things he loves most:  his God, his country, his family and baseball, and maybe not necessarily in that order.  After 94 years, I'm sure he has stood for the National Anthem more times than there are stars in the sky. A Corpus Christi Hooks' season-ticket holder from the beginning (2005), he sits four seats away to my right.  It seems like he has always been there and, in fact, for me he pretty much has.  Seat 8, Row 16, Section 117 should have a nameplate with his name attached to it.  For years his beloved wife, Mary, joined him, until sadly she left us two years ago.  Now his sons, Marvin Jr. and Mike, bring their dad to see the Hooks play.  It seems he's always had a baseball heart.




As I got to know Mr. Alexander more and more, I wondered where his love for the game of baseball came from.  Turns out he was a pretty darn good pitcher, while in the Navy.  After the war, Mr. Alexander was stationed at the Corpus Christi Naval Air Station.  During the late 1940's, a baseball team was organized.  This semi-pro league was made up of several auxiliary air stations.  "We played all summer long against teams located at Cabaniss Field, Rodd Field, Cuddihy Field, Chase field, Waldron Field, and in Kingsville and Laredo," said Marvin.




I asked him about his best pitch.  He described it as an "In" pitch.  Now remember, baseball terms were different in the 1940's.  What he was describing was a fastball inside on the right-hand hitters.  He also owned a fine curveball.  "In 1947, you pitched all nine innings in those days" said Marvin.  "There was no such thing as relief pitchers.  If you couldn't go nine innings you didn't pitch."




When I asked him who his favorite baseball players were, he surprised me.  "I followed the local guys, Burt Hooten and Bart Shirley's careers," he said. 




There are several funny stories that his boys have shared with me.  "In 2010, on Mom and Dad's 70 wedding anniversary, they decided to go to the Hooks game to celebrate," laughed Marvin Jr.  "We had so much fun.  The ballpark ushers got together and decorated Mary's seat," said Mr. Alexander.




 "Dad loved playing baseball; he was pitching on the day I was born," exclaimed his younger son, Mike. "I was born at Naval Air Station Corpus Christi at the Navy hospital."  "Yeah, and I won that day," laughed Marvin.  "I think the score was 5-2."  Mike would grow up with his dad's love for baseball.  Mike pitched for Carroll High School before receiving a scholarship to pitch at Blinn College.  After two years there, Mike transferred to Sam Houston State and continued his dream. 




 Marvin and Mary Alexander married in 1940.  A friend of mine, Marty Robinson, attends all the Sunday games with me.  He once asked Mr. Alexander, "How do you stay married for more than 70 years?"  Marvin just smile and answered, "Two words --Yes Dear."  Alexander later said, "She never raised her voice at me." 




Oh, how I would love to see through those baby blues if for only a moment.  The players he has seen, the stories he could tell.  Hunter Pence with that funny swing and Ben Zobrist hitting line drives like he owned the place.  Mr. Alexander was one of the 9,022 fans who showed up to watch Roger Clemens strike out 11 in just six innings, on June 11, 2006.  That same season, he pulled for the team to win their first Texas League Championship.  Marvin liked watching J.D. Martinez roaming the Hooks' outfield.  He also enjoyed watching Jason Castro shut down the running game, while cheering for a George Springer "dinger."  He admired the quickness of Jose Altuve's bat and the long, accurate arm of Carlos Correa.  He smiled at a Dallas Keuchel's slider and raved about Alex Bregman's glove play at third base.  




Andy Rooney once said, "The best classroom in the world is at the feet of an elderly person."




So, if you find yourself at Whataburger Field and you want to meet an extraordinary gentleman, stop by and say hello to a former pitcher, Marvin Alexander.  Here's wishing my friend fair winds and following seas.

 


                                                               Andy Purvis




                                                       www.purvisbooks.com

Categories: None

0

/