Shopping Cart
Your Cart is Empty
There was an error with PayPal
Click here to try again
Thank you for your business!
You should be receiving an order confirmation from Paypal shortly.
Exit Shopping Cart
| | |
| --- | --- |
| Posted on June 12, 2013 at 10:06 PM | |
"Day of Days"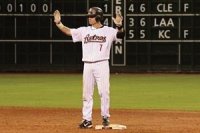 It took him years to be the "first."  Twenty years to be exact.  He will be the first to wear the star of Houston, Texas Astros on his cap, which will proudly be displayed on his Hall of Fame plaque.  Day after day, he did his thing.  He hit leadoff homers, doubles up the middle, or took a pitch on the elbow and trotted to first base.  Along the way, he began to lead the team out onto the field at the start of each game.  We quickly found out that he was a natural born leader. Very rarely was he hurt, or at least he was good at keeping it from us.  Little did we know that he played through illnesses, soreness, injuries to his knee in 2000, shoulder and broken fingers?  He never made excuses, busted his tail during every at-bat, and man, could he turn on a fastball.  He was always there; in the middle of a rally, stretching a single into a double, bunting to get on base, and diving to keep a ball in play.  For twenty years he showed up for the same team and we never noticed he was there until something good happened.      He was a grinder, a winner, and an old fashion ballplayer.  He always respected the game and his ability to focus on the next play separated him from most.  Whether something good or bad happened on the field, he was able to define it as "that's baseball."   He never charged the mound, never showed up other players or the club, and has never been thrown out of a game.  Oh, there was a fire, a fire burning deep down inside him, but he always had it under control.  His motto may have been, "Never let them see you sweat," like the commercial.  He never grew his hair long, pierced his ears or tattooed his body.  You never read bad things about him in the press.  The only thing dirty about Craig Biggio was his uniform.      He was a husband, a father, a religious man, rancher, head of the Sunshine Kids, (an organization that takes care of cancer stricken kids) and yes, he played baseball.  He could have been your next door neighbor and you would have never known he was a professional athlete.  Now people name their kids after him.  He was ok with who he was and proud to be a professional baseball player.  I remember being late arriving to a game once and while standing outside, in line to get in, I smiled at hearing this loud roar rumble from deep inside the park, B-G-O, B-G-O.  Over and over, the crowd chanted B-G-O, as he approached home plate.  It was just another "Day of days," in the life of Craig Biggio.  Baseball, in Houston, Texas, as we know it, was about to begin.      Craig Alan Biggio, who was born in Smithtown, New York, on December 14, 1965, announced his retirement from Major League Baseball, today, July 24, 2007.  Unlike most professional athletes, he will go out on his own terms.  After twenty years of taking infield practice, twenty years of getting in and out of that batting cage, he's had enough.  "I'm at peace with it and I'm at peace with how things have gone for me.  I'm in a good place," said Biggio.  "It couldn't get any better than it did on June 28, when I reached my 3,000 hit.  It can't get any better than that, other than winning the World Series.  That was the greatest day of my life and my family's life.  That's what I want the fans to remember."       Yes, he will be remembered.  He will be remembered as a first round draft choice from Seton Hall University, a seven time All-Star at two different positions, winner of four Gold Gloves, five Silver Slugger Awards, 3,000 plus hits, six postseason appearances, and the most doubles (661) hit by any right-handed batter to every play the game.  There is one other record that he accomplished that no one seems to talk about.  In 1997, Biggio became the first and only player in baseball history not to hit into a double play, while playing an entire 162-game season.  He will also be remembered as a Killer Bee forever in the minds of Houston fans.  For eighteen of his twenty years you could not say Biggio without saying Bagwell, Jeff Bagwell that is.  These two have been the heartbeat of the Houston Astros for as long as most fans can remember.  So, goodbye Craig Biggio!   Looks like you will be heading back to your small town beginnings in the State of New York to pick up your last award, in a little place called Cooperstown.  Then, you will be remembered forever as one of the best.  It will be just another "Day of days," in the life of Craig Biggio. 
Categories: None
/